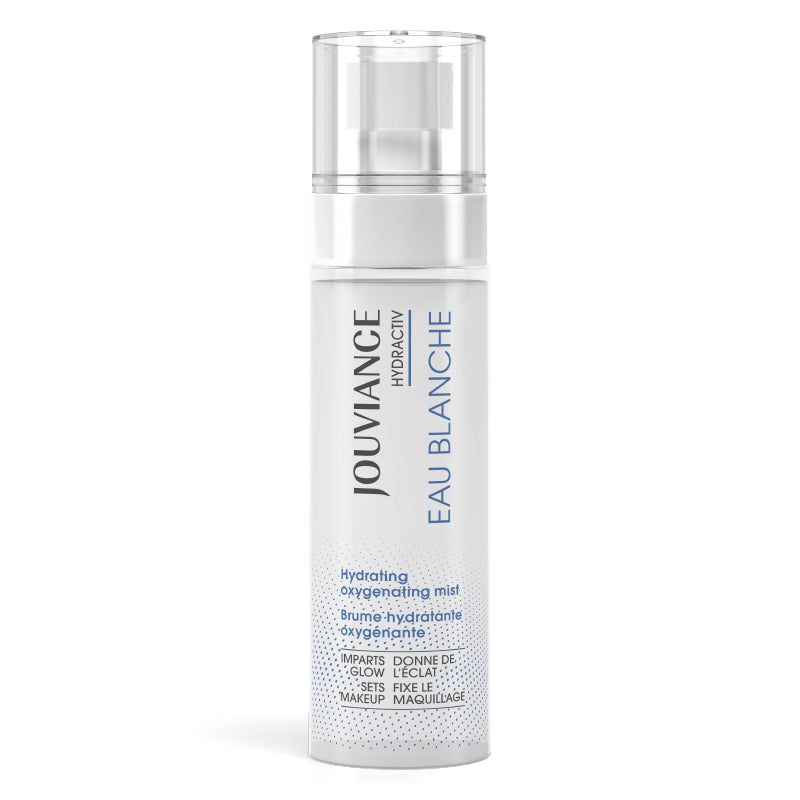 FINAL SALE
DAY | NIGHT

VISAGE | NECK | NECKLINE

ALL SKIN TYPES | SENSITIVE

Thanks to its oxygenating properties, Hydractiv Eau Blanche moisturizes the skin and adds a healthy-looking filter with just a few refreshing mists. Like an oasis for your skin, this multifunction skin-quencher can be applied at any time of day whenever you need it.

To fully understand the unique power of Hydractiv Eau Blanche, it's important to know that as the skin ages, it metabolizes oxygen less efficiently. Sooner or later, it begins to lack oxygen. This phenomenon, called hypoxia, causes the skin to oxidize and therefore reduce the production of maintenance proteins such as collagen, elastin and hyaluronic acid. Gradually, our complexion becomes dull and uneven and our fine lines and wrinkles become more apparent.

To put the brakes on this phenomenon, Eau Blanche first relies on Oxygeskin, a powerful active ingredient extracted from the nasturtium flower that stimulates oxygenation, prevents hypoxia and reactivates the skin's oxygen receptors. Combined with hyaluronic acid, this thirst-quenching formula softens, moisturizes and illuminates the skin in just a few mists. A ritual to be repeated as often as you like, from morning to night.

Its unique, natural scent - the perfect balance of floral and woody notes inspired by violet blossom - brings a dimension of well-being to Eau Blanche that is both energizing and soothing.

THE BENEFITS :
Like a wave of freshness at your fingertips - its travel-friendly format allows you to take it with you wherever you go. With a gentle mist application, Eau Blanche immediately infuses the skin with its moisturizing and radiance-enhancing properties. Its natural fragrance is punctuated with woody and floral notes inspired by violet flower and delivers a sensation of instant pleasure. As for its benefits, they are long-lasting.

In addition to stimulating the skin's oxygenation, it helps it to better resist hypoxic stress (suffocation of the skin) and strengthen the natural functions of the skin barrier. As an antioxidant shield, it also protects the skin from free radicals, particularly from digital pollution.

Its cosmetic properties improve the hold of makeup and mattify the skin. It is suitable for all skin types, whether sensitive, atopic or acne-prone.


Proven results after 4 weeks:
100% skin tolerance,
95% immediate refreshing sensation,
91% skin comfort from the first application,
83% normalizes excess sebum,
81% hydrating effect at first spray,
81% better makeup hold.

Satisfaction study with 19 participants, duration 4 weeks, average age 36 years old.

Morning Hydration:
After applying your day cream, hold the spray bottle 30 cm from your face (mouth and eyes closed) and spritz your skin with 2 to 3 mists of Eau Blanche.


Makeup fixative:
At the very end of your makeup application, spray your face with 2 to 3 mists of Eau Blanche to maximize its hold.


Energizing touch-ups:
Refresh dull, dehydrated midday skin by spraying your face with 1 to 2 mists of Eau Blanche.

Soothing evening:
In the evening, as the last step of your beauty routine, hydrate your skin with 2 to 3 mists of Eau Blanche for a relaxing and moisturizing effect.
Oxygeskin: Highly effective, this nasturtium extract stimulates oxygenation and protects it against digital pollution (screens, blue light, etc.). 

Hyaluronic acid: This superhero of hydration nourishes the skin in record time, plumping up fine lines and wrinkles. 
Allantoine: This one works in two stages; the first, to soothe the skin and calm daily irritations and the second, to stimulate cell regeneration, which promotes a younger-looking epidermis.


Niacinamide: Also known as vitamin B3, it regulates sebum production and brightens the complexion, as if it were glowing from within.


Natural Glycerine: Maximizes makeup hold without any stickiness and without clogging pores.

INCI :

Aqua, Glycerin, Pentylene Glycol, Propanediol, Tropaeolum Majus Flower / Leaf/ Stem Extract, Sodium Hyaluronate, Allantoin, Niacinamide, Polyglyceryl-6 Caprylate, Polyglyceryl-6 Ricinoleate, Polyglyceryl-4 Caprate, Polyglyceryl-4 Cocoate, Polyaminopropyl Biguanide, 1,2-hexanediol, Caprylyl Glycol, Fragrance/Parfum (natural mix of /mélange naturel de Citral, Limonene, Linalol)